WELCOME TO THE WOLCOTT AMBULANCE TRAINING CENTER FOR EMERGENCY MEDICAL TECHNICIANS
Wolcott Ambulance offers several Emergency Medical Technician courses throughout the year. We are one of the least expensive EMT courses in the state of Connecticut. The cost of the course includes all of your textbooks, a stethoscope, a blood pressure cuff, a penlight, trauma shears, a pocket mask, AND all of the fees associated with your NREMT Practical Exam. During the course, you will learn all the necessary skills and knowledge to become a fantastic EMT. After passing our course you will be able to take the NREMT practical and written exams. Wolcott Ambulance also offers tuition reimbursement to its students, who become certified EMTs, after volunteering with us for one year as a member in good standing. We look forward to seeing you in one of our upcoming classes!
---
Spring 2021 EMT Course
January 18, 2021 – April 30, 2021
Mondays & Fridays 6pm – 10pm*
(First week Wed. & Fri. – Please see attached course calendar)
Tuition, all textbooks, online test prep, stethoscope, blood pressure cuff, CPR mask, trauma shears, and penlight: $950.00
COST OF THE NREMT PRACTICAL EXAM INCLUDED!

*$850.00 if paid in full by January 8, 2021
Discount for current High School students residing in Wolcott
(must be 16 years old by 4/30/2021)
Payment plans are available
---
Methods of Payment
The Wolcott Volunteer Ambulance Association Training Center has several methods of payment available to EMT students:

Pay by Mail:
You can send us a bank check or money order (NO personal checks) in the mail.
Checks can be made payable to "Wolcott Volunteer Ambulance Association"
Please send your payment and application to:
Wolcott Vol. Ambulance Assoc.
P.O. Box 6066
Wolcott, CT 06716

Pay Online:
You have the option to pay online through our website with PayPal. (Please note that by paying online, you are subjected to a PayPal processing fee based on your payment.) If you chose this method of payment please email us your application and advise us that you paid online.
Visit:
wolcottambulance.com
Navigate to the EMT Course page and scroll down to find the payment option.

Drop off your Payment in Person:
We do allow you to drop off your application and payment in person.
If you chose this method of payment, please send us an email, or call to schedule an appointment prior to coming to our building.
Location:
48 Todd Rd.
Wolcott, CT 06716
We are the white building to the left of the driveway as you pull in.

*PLEASE NOTE: IF YOU CHOOSE TO PAY IN FULL INSTEAD OF THE PAYMENT PLAN, YOU WILL BE OFFERED A DISCOUNT FOR THE COURSE.
INSTEAD OF $950 YOU WILL PAY $850. *
*Paypal charges a processing fee for all online payments. Above, if you chose to pay online, you will see an increased cost to compensate for the transaction fees that we must pay. To avoid paying transaction fees please see the other options above.
---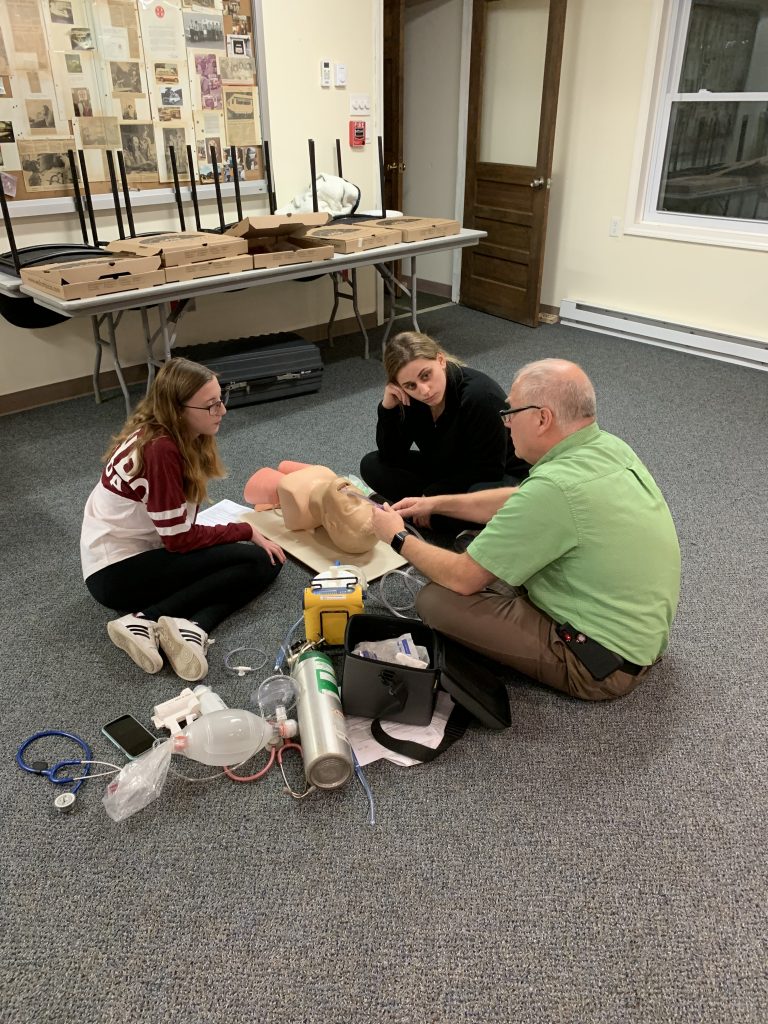 In our Emergency Medical Technician courses, we train our students to become outstanding EMTs. During our courses, each student will get a mixture of lecture, hands-on lab, and clinical experience. Each class will have a lecture followed by a hands-on lab where students will get to apply what they learned to practical skills. Students also complete clinical internships at both Wolcott Ambulance and St. Mary's Hospital. Our programs are fast-paced and high intensity, but all of our students are well prepared to take the national registry exams at the end of the course to obtain their EMT certification.
For any questions regarding the EMT course or any other training opportunities at Wolcott Ambulance please fill out the form below or contact the Training Center at (203)-879-4122 EXT. 113 or at training@wolcottambulance.com