Babysitter's Training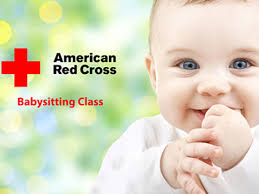 The Babysitter's Training program provides youth who are planning to babysit with the knowledge and skills necessary to safely and responsibly give care for children and infants.
This course includes all of the babysitting resources and training.

You will also receive a second certification by taking this course. The second certification is in pediatric first aid, CPR, and AED. This second course covers all of the necessary information needed to help a child experiencing a medical emergency while you are working.

This combined course is approximately 10 hours in duration.
---
Responding to Emergencies
The primary purpose of the American Red Cross Responding to Emergencies: Comprehensive First Aid/CPR/AED program is to help participants recognize and respond appropriately to cardiac, breathing, and first aid emergencies.

The courses in this program teach participants the knowledge and skills needed to give immediate care to an injured or ill person and to decide whether advanced medical care is needed. This program is designed primarily for use in secondary schools, colleges, universities, and other settings that require a curriculum of greater length than the American Red Cross First Aid/CPR/ AED program.

The care steps outlined within this manual are consistent with the 2015 International Liaison Committee on Resuscitation (ILCOR) Consensus on Science with Treatment Recommendations for CPR and Emergency Cardiovascular Care (ECC) and the 2015 American Heart Association and American Red Cross Guidelines for First Aid.

This course is approximately 30 hours in duration.
---
Wilderness and Remote First Aid
The Wilderness and Remote First Aid course provides individuals a foundation of first aid principles and skills to be able to respond to emergencies and give care in areas that do not have immediate emergency medical services (EMS) response.
This course is approximately 16 hours in duration.
---
Cost of Courses
The cost of the course covers the certification you will receive and your course textbook. There is also a small prize for each student to attend our courses!
Babysitter Training: $125.00
Responding to Emergencies: $250.00
Wilderness Survival: $150.00
---
To sign up for an American Red Cross Course
Please fill out the contact form below.
Be sure to click to correct dates and classes that you wish to attend.
You may also call (203)-879-4122 EXT 113 to sign up for a course.
*PayPal charges a processing fee for all online payments. Above, if you chose to pay online, you will see an increased cost to compensate for the transaction fees that we must pay. To avoid paying transaction fees you may pay at the time of the course you are taking. If you chose to pay at the time of the course please call (203)-879-4122 EXT 113 or email training@wolcottambulance.com to make the instructors aware of your intentions.